Sarah Cawley, Executive Director, is originally from eastern Pennsylvania, but now calls Idaho her home. She is a 2016 graduate from the State University of New York College of Environmental Science and Forestry in Syracuse, New York.  She is excited to spread her love and passion for the natural world to all those she interacts with. Sarah has a Bachelor's of Science in Environmental Education and a strong focus in Recreational and Visitor Management. Sarah has worked with the Sawtooth Association since 2014 as a Naturalist at the Redfish Center, and has moved to New York and then Massachusetts in the off season to expand her knowledge of outdoor education. After her three years with us, Sarah is excited to be the Executive Director for such an inspiring and amazing organization.
Laurii Gadwa, Outlet Sales Manager and Bookkeeper, is a 1978 graduate of the University of Idaho with a B.A. in Theater Arts, Child Development, and Psychology. The mother of two children, she also helped raise numerous foster children. Laurii, who has a deep-rooted interest in and dedication to the Sawtooth-Salmon River Country, is one of the original founders of SIHA. She worked for the organization as its executive secretary from 1980 to 1987 when it was known as the Sawtooth Interpretive Association. During that time, she was instrumental in the Valley Creek Ranger Station remodel and hired the first intern to develop the Stanley Museum displays. After retiring from managing the Redwood Motel in 2005, she rejoined the SIHA team as its Outlet Sales Manager and Bookkeeper.  In her 30 plus years of living in Stanley, Laurii has been an integral part of the community. She has served continually as a member of the Sawtooth Mountain Mamas, a community service organization; organized the Mainstay Council, Custer County's first domestic violence council; and served twelve years on the Challis School Board. Laurii also was a Stanley Library Board member, and is a second term Stanley City Councilwoman.
Matthew Bingman, Museum Docent, was born and raised in the West Central Mountains, in Cascade, ID. Growing up with the Frank Church River of No Return Wilderness as his backyard, Matt developed a loving respect for the rugged Idaho landscape. He is completing his M.A. in Historical Resources Management at Idaho State University this spring. His research has focused on the relationship between the natural environment and people. He is passionate about connecting people with the landscape they live and play in through history that inspires continued engagement with the landscape and the people. Matt is excited to share (and learn about!) this history to all of the visitors that come through the doors of the Stanley Museum this summer.
Megan Nelson, Historic Specialist, is a Wisconsin native and graduated in 2019 from the University of Wisconsin-Parkside with a Bachelor's in History. After graduate school, she hopes to work in a museum or library. She has been a lifelong lover of museums and is very excited for the opportunity to work in the Stanley Museum. Not only is Megan looking forward to learning about the history of the region, but she is eager to dust off her hiking boots and explore the beautiful area of Sawtooth.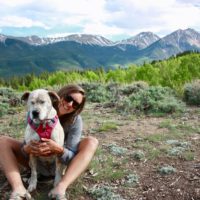 Caitlin Straubinger, Lead Naturalist, a Florida native, cultivated her love of the outdoors while leading backpacking and paddling trips for the University of Florida and as a camp counselor in the Appalachians. She graduated with a Bachelor's degree in Recreation, Parks & Tourism, and later earned her Master's degree in Higher Education/Student Affairs. After a stint working in the Colorado high country, Caitlin moved to Idaho in 2014, developing recreation programs for the City of Eagle. She spent the past year traveling North America, deepening her passion for public lands and the natural resources they support. She is excited to share this passion with the visitors of the Sawtooth National Recreation Area this summer.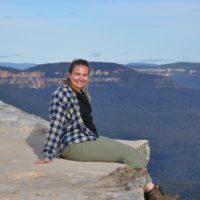 Emma Adams, Returning Naturalist, is a recent graduate from the University of Wisconsin- Stevens Point studying Environmental Education and Interpretation, minoring in sustainable energy. Originally from Green Bay Wisconsin, Emma has learned and studied ecosystems ranging from the Australian Bush, Volcano Fields of Hawaii, Appalachian Mountains, to the Northwoods of Wisconsin. In her free time she enjoys, hiking, playing her cello and crocheting. Her love for the outdoors and learning has given her a zest of sharing the outdoors with people. She is looking forward to exploring the Sawtooth-Salmon River Country and interacting with its visitors for another season.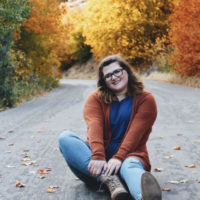 Aspen Arnold, Naturalist, graduated in December 2018 with a Bachelor of Science in Anthropology. She grew up moving all over the country since her dad was in the military, each place she went she enjoyed hiking, kayaking, and gardening. She currently lives on her parents' goat dairy farm in Challis. She is excited to work with the visitors of Stanley and explore the natural history and beauty of the area.
Hannah Fake, Naturalist, grew up adventuring in Maine and has also enjoyed exploring the outdoors abroad. At St. Lawrence University, she studied Conservation Biology where she furthered her passion for conservation and nature. She is excited to spend the summer in the Sawtooth's learning, teaching, and working along side others who care about the natural environment.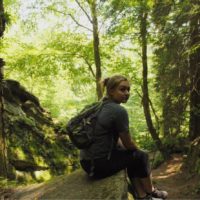 Rachael Marczak, Naturalist, is a graduate of Edinboro University of Pennsylvania with a degree in Environmental Science with a concentration in Wildlife Biology, as well as minors in Geography and Environmental Studies. Born and raised in Edinboro, Pennsylvania, Rachael has been immersed in nature and outdoor recreation for her entire life. She was raised camping, fishing, kayaking, and hunting, and couldn't imagine her life without it. She is excited to pursue her passion for environmental education and conservation with the Sawtooth Association and get a chance to experience the beauty of the Sawtooth National Recreation Area.
Patrick Soloviev, Naturalist, is originally from upstate New York and a graduate of State University of New York College of Environmental Science and Forestry in Syracuse NY with a Bachelor of Science degree in Environmental Science. Patrick developed his love for the outdoors while working at a local apple orchard in his hometown and has followed that passion ever since. Working in the environmental field has brought him to live and work in Aspen Colorado, the Pocono Mountains of Pennsylvania, and Acadia National Park. He currently seeks to foster future environmental stewardship by increasing environmental consciousness and awareness in others. When Patrick isn't working to identify flowers, animal tracks or trees, he can be found spending his free time exploring waterfalls, photographing nature, hiking, and practicing on his accordion. He is very excited to learn and share with visitors the natural beauty of the Sawtooth National Recreation Area this summer.