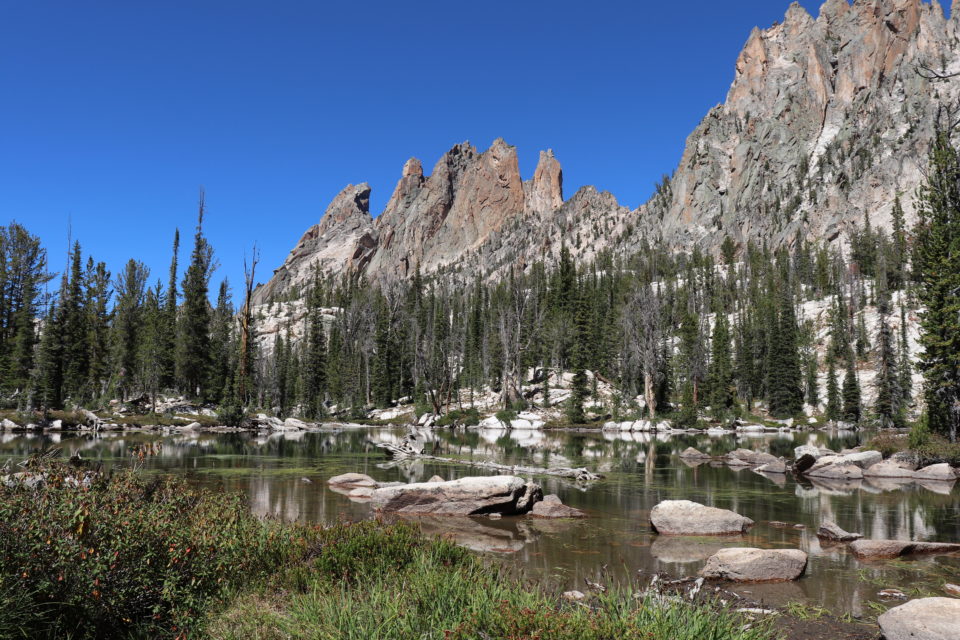 Chelsea Phillippe's master thesis was studying the Sawtooth Wilderness to look at recreation trends and impacts from 1965 to 2015. Many including Phillippe are concerned our public lands are being loved to death. Phillippe's case study is a great 150-page document with one of the first analyses of visitor data for the Sawtooth Wilderness. If you don't really want to go and read the whole 150 pages, don't worry! This blog post breaks Phillippe's data and conclusions and summarizes her findings.
This year everyone has noticed the increase in visitors in the Sawtooths. The campgrounds are fuller and the trails have more people on, parking on weekends has become a nightmare. Many locals, forest managers, and visitors have commented on the increase in impact on our forests and wilderness areas. Some are excited that more people are getting outdoors, recreating, and experiencing our beautiful part of the world. Others are complaining of the lack of parking, the number of hikers on the trails, or being unable to find a campsite. What is most concerning is the potential impact these visitors will have on our public lands.
Although Phillippe's paper does not cover data for the last 5 years, it does give us an insight into the use and change of use in the Sawtooths over the last 50 years. Learning from this data analysis may help us continue to preserve and protect our Sawtooth Wilderness and other public land areas.
All the data and numbers of visitors in this study came from users who registered at Sawtooth Wilderness trailhead registers and permit boxes from 1965 to 2015. Over the time period there were changes in how and where people register and the designations of the land. The Sawtooth Primitive Area was designated in 1937. The Sawtooth National Recreation Area and Sawtooth Wilderness were established in 1972.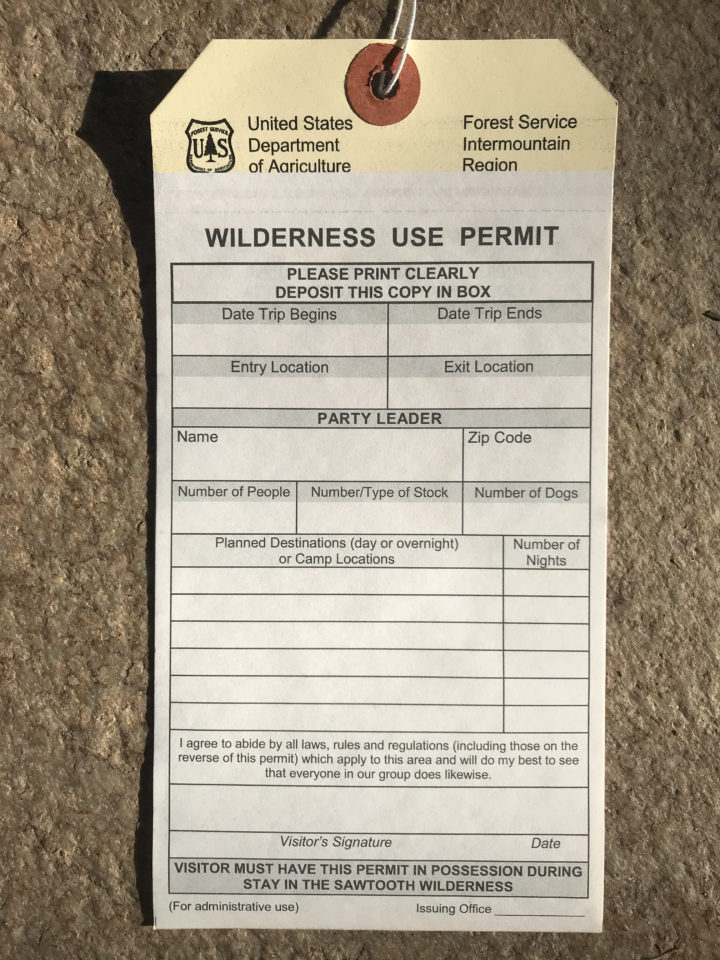 Management has also varied over the area's history. From being a primitive area to becoming a wilderness area there were different management strategies. Rangers, visitor centers, national LNT campaigns, and the Sawtooths Wildlands Education Program have, and some still do provide education, management, and information about visiting wilderness. The Sawtooth Primitive Area was designated in 1937 but the wilderness ranger program was not started until 1965.
The main goals of wilderness ranger program were, and still are, to clean up trash, clean campsites, maintain signage and trails, and conduct educational contacts with visitors. The data shows that wilderness rangers are packing out less trash and destroying/maintaining fewer campfire rings in the Sawtooths however these tasks still need to be carried out. Campfire rings were prohibited since 1997 but fire rings are still built around our scenic lake and the impacts are continuing. The number of Wilderness rangers has fluctuated over time but they are still necessary in educating, patrolling, and unfortunately cleaning up after others.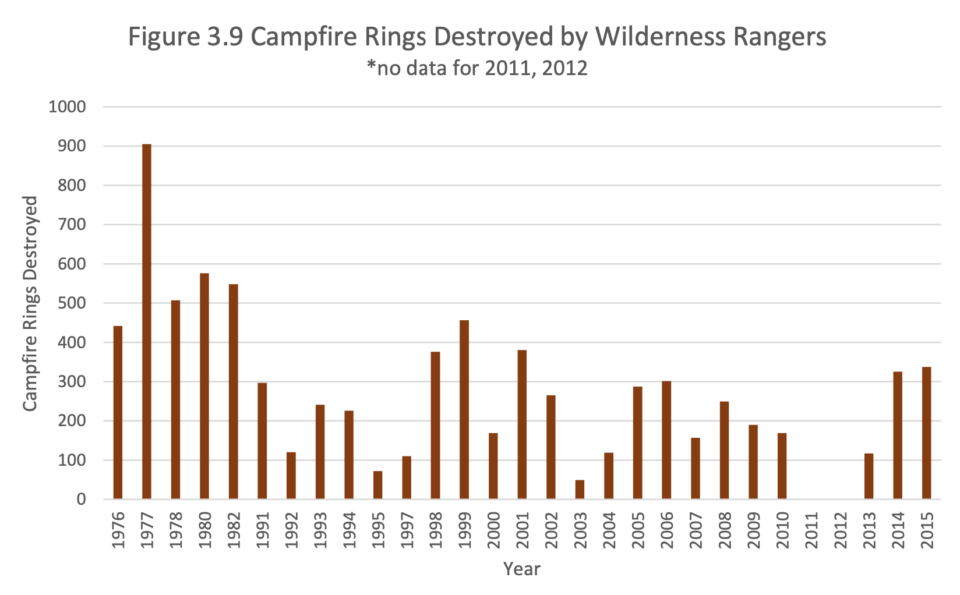 Overall Trends
The major trends Phillippe found were visitor use increased, group size decreased, trips shortened, and there was less stock use. Overall visitation increased from 6,500 in 1965 to over 27,000 in 2015 (113). Not surprisingly, most visitors are from Idaho, about 69%, with many coming from the greater Boise area (117). The proportion of overnight visitors has grown from 11% in 1966 up to 32% in 2015 (114). Visitor demographics changed as well. In the Sawtooth Wilderness, diversity in race and ethnicity remains below national trends. There are still fewer women than men visiting the Sawtooth Wilderness, however, the proportion of women visiting has grown from 41% in 2005 to 46% in 2015 (114).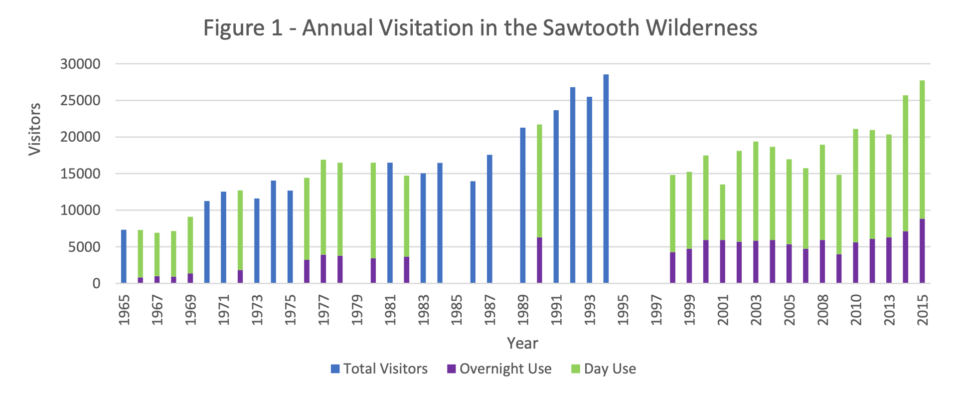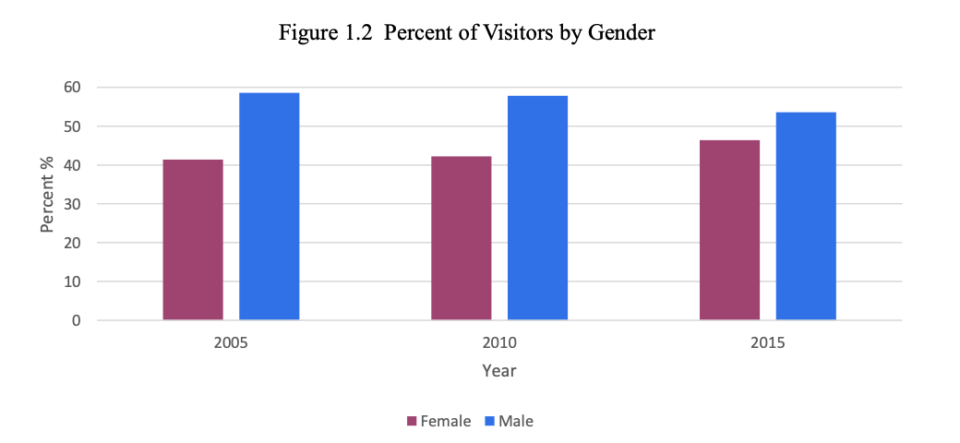 One trend found was there was a large decrease in visitors in the mid-1990s. This decrease in visitation was seen across public lands in the western U.S. Perhaps in the Sawtooths it was exaggerated by a parking fee policy at trailheads. In 2015 the visitor total was still lower than the peak in 1994. With the Sawtooth Wilderness showing increases in use through 2015 it is unlikely use peaked in 2015 as it did in the mid-1990s. We have all been seeing busier and busier summers since 2015.
Even though visitor numbers are increasing visitors are still reporting that they do not feel crowded and are satisfied with their visit. This becomes problematic as managers see areas being overused where visitors do not sense it. Educational messages can help explain impacts and how to protect wilderness character (128). Howard Zahniser stated, "(a) wilderness, in contrast with those areas where man and his own works dominate the landscape, is hereby recognized as an area where the earth and its community of life are untrammeled by man, where man himself is a visitor who does not remain." Visitors can impact the land in many different ways. Biophysical impacts include trampled vegetation, eroded soils, displaced wildlife, and polluted water (20). Many of these impacts can be lessened or mitigated by following the Sawtooth Wilderness regulations that are based on Leave No Trace Principles. Keeping your dog on a leash helps protect wildlife, staying on the trail reduces erosion, camping in established sites and following campfire regulations helps protect vegetation and soils. Getting to explore and recreate in a place untrammeled by man is a unique experience that we should strive to protect for future generations.
Location Specific Usage
Phillippe found trends of usage on specific trails from permit boxes. A substantial proportion of visitors enter the Sawtooth Wilderness on the east side due to more infrastructure. As one would expect popular entry points are at the Iron Creek, Redfish Inlet, and Tin Cup wilderness permit boxes. Most visitors at Iron Creek are day hikers heading to Sawtooth Lake whereas Redfish Inlet and Tin Cup see more overnight visitors. Our spectacular Sawtooth Lake has seen a slight increase in campsite impacts. The Tin Cup permit box has seen a lot of variation in the last 50 years but has peaked in 1992 and then increased again through 2015 with over 5000 visitors a year (114). Both Alice Lake and Toxaway Lake see the highest number of overnight visitors with Alice Lake also seeing a lot of day hikers. Even though they are experiencing higher use the data shows Alice and Toxaway Lakes have a decreasing trend in campsite impacts. (p. 68) In comparison, "(t)he Grand Jean permit box has seen a relatively steady 1800 visitors per year. Meanwhile, the Queens River permit box experienced relatively low visitation, consistently under 800 visits a year, with a general decrease over the last few decades" (114).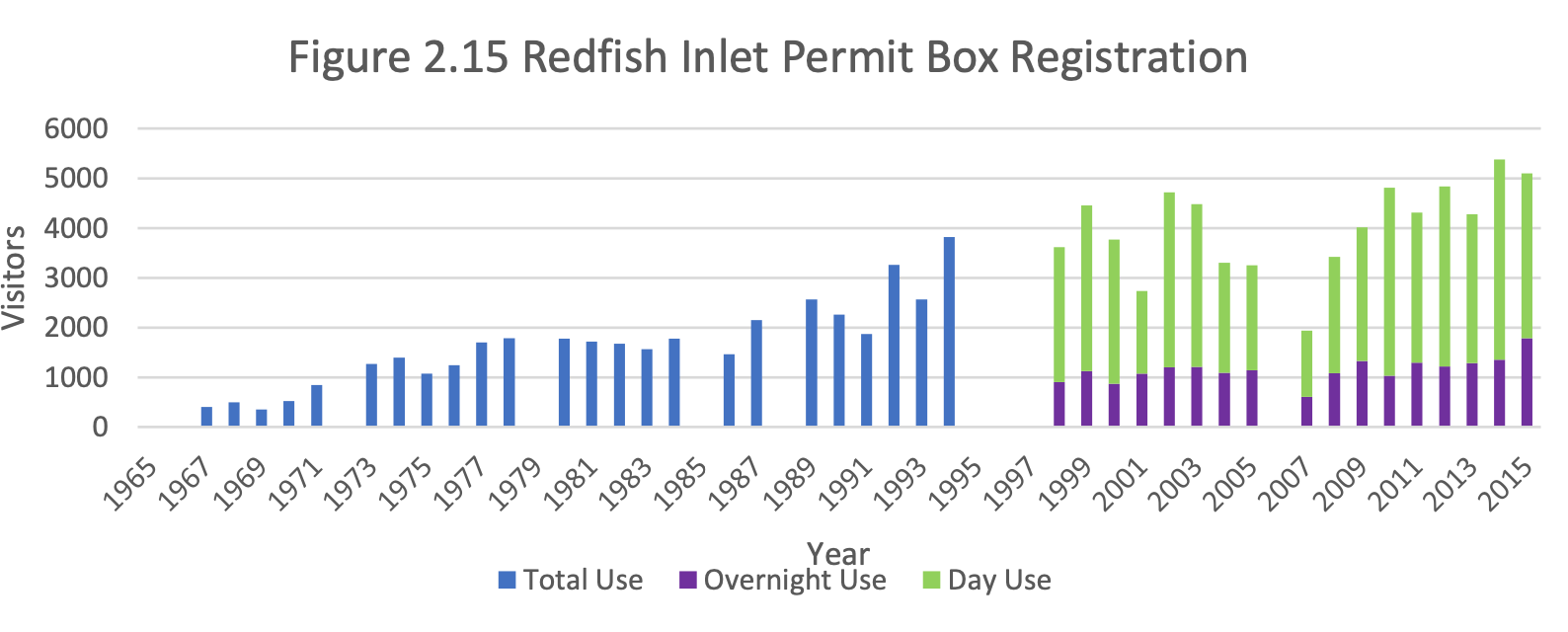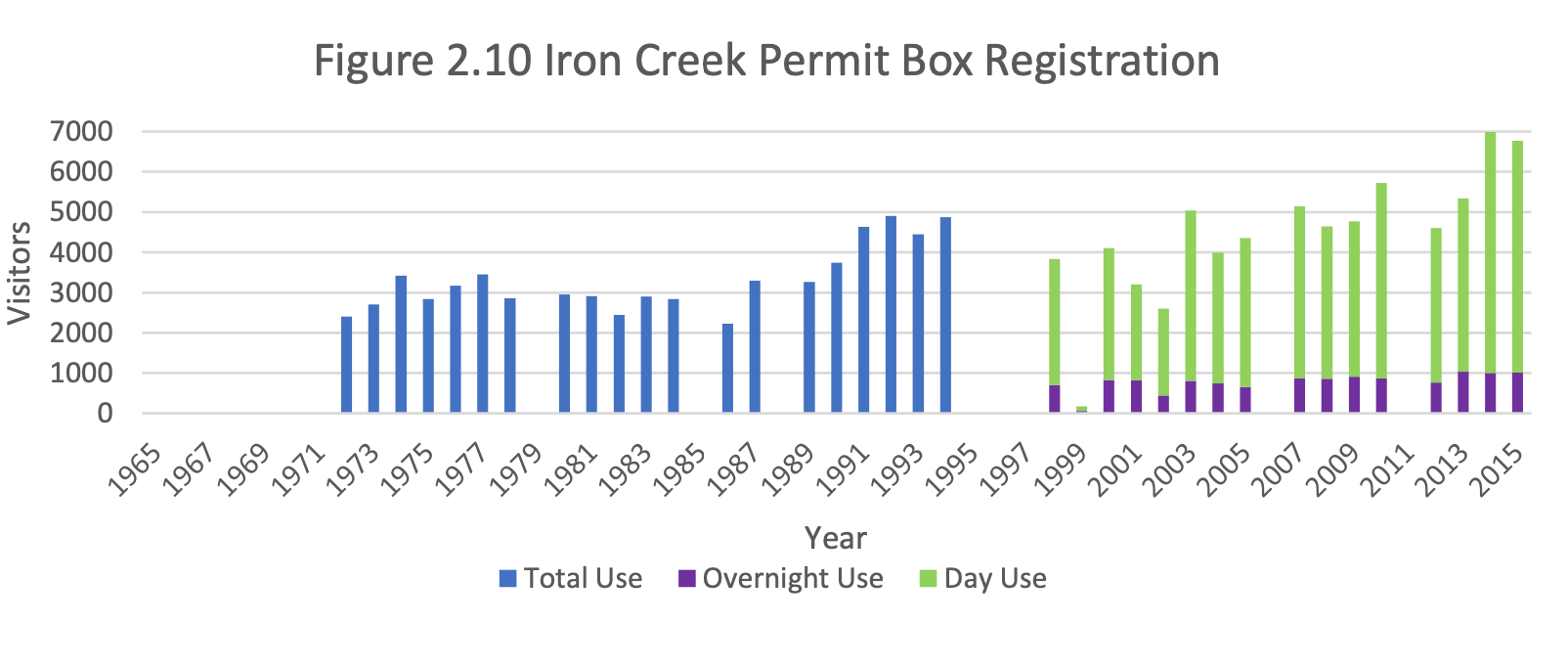 It may seem concerning that there is so much use in specific and concentrated areas. However, concentrating the impact from visitors is desirable because if there was an even distribution of visitors it could lead to overuse in all areas or reducing the areas that are pristine wilderness (20). Phillippe also importantly discussed the relationship between use and impact.
Recreation ecologists agree that the relationship between the amount of use and detrimental impacts is not linear; thus, an increase in visitor numbers does not necessarily translate into an increase in campsite impacts. Instead, impacts are curvilinear, or asymptotic, meaning as initial uses at a campsite increase during the first year or so of use, both rapid and substantial impacts occur (trampled plants, burnt wood, eroded soils) while continued use over the proceeding decades creates minimal to no additional impacts (21-22).
So to put it simply, just because there are more visitors it does not necessarily mean that there will be more detrimental impacts. In the beginning, the amount of impact is great for very little use. As usage grows the amount of impact will not continue to increase as fast. The graph below also shows this relationship.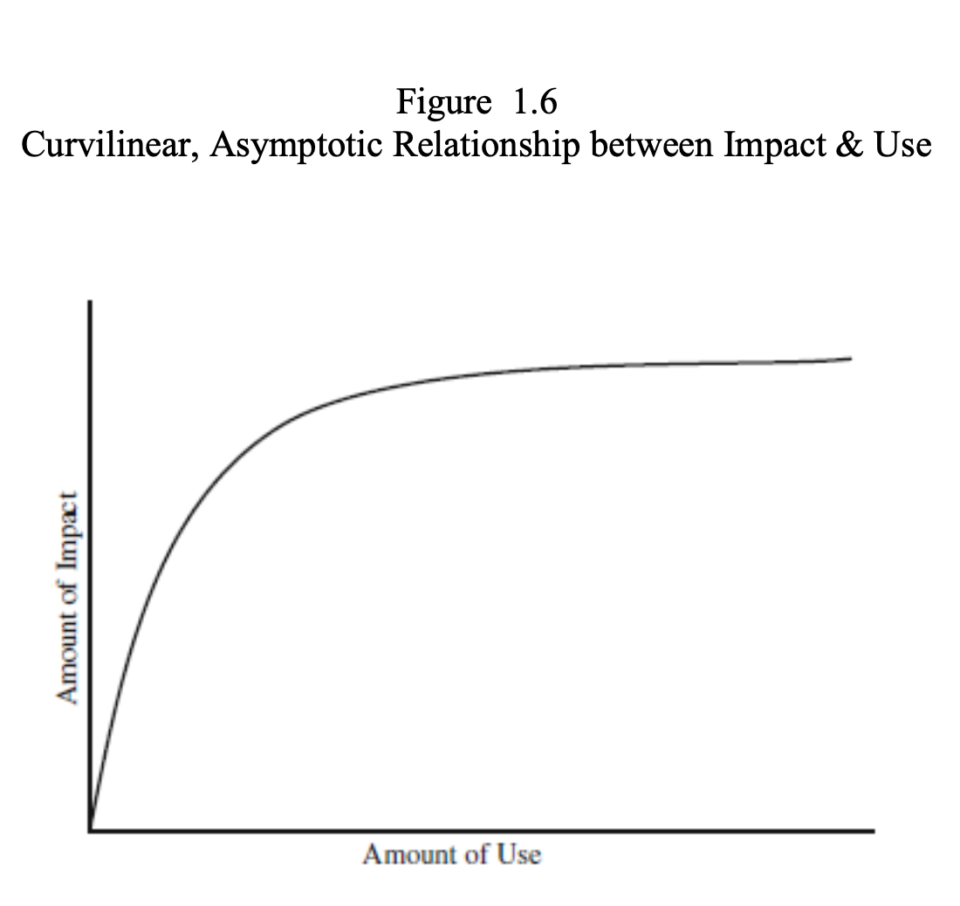 What can we do about the increasing number of visitors in the Sawtooths and other areas? We can educate! Education is the preferred method of regulating visitors and their behavior (15). The Sawtooth Wilderness has a non-limiting permit system. However, many educational contacts happen with visitors who are already on their trip so there is often little opportunity for them to change their behavior. Focusing on reducing visitors' detrimental impacts rather than reducing overall visitor numbers is recommended. This is especially important because individuals are more likely to care for and support conservation if they have had a positive experience in protected lands.
So what can we learn from Chelsea Phillippe's extensive research? Usage is increasing, but it is not increasing everywhere. Certain areas are experiencing higher usage and will need more resources dedicated to their preservation as wilderness. The best tool we have to help visitors experience our Sawtooth Wilderness with as little impact as possible is education. Hopefully, Phillippe's research will help our wilderness managers create plans for the continued care and protection of our Sawtooth Wilderness as "(w)ilderness managers do not manage the wilderness per se, but rather its visitors and their detrimental impacts (4)."
To read the whole paper visit: https://scholarworks.umt.edu/etd/11612
Citation for paper:
Phillippe, Chelsea E., "Wilderness Recreation Trends and Impacts: A Case Study of the Sawtooth Wilderness" (2020). Graduate Student Theses, Dissertations, & Professional Papers. 11612. https://scholarworks.umt.edu/etd/11612