Current Salmon Trends: Salmon's Continued Struggle to Escape Extinction
The number of salmon that return to the Sawtooth Valley today are far lower than their historic numbers. There are many contributing factors to their struggle, beginning in the 1800s with overfishing, and then with logging and ranching that further degraded their habitat. Later into the 1900s, the construction of dams significantly altered their normal habitat, interrupting their 900-mile journey from the Sawtooth Valley to the Pacific Ocean, filling their familiar rivers with reservoirs and turbines. There are multiple reasons that dams have continued to contribute to their declining numbers, including disturbance to currents that salmon use to navigate, elevated temperatures in reservoirs and increased predators that thrive by hunting in slower currents.
This year, climate change-related increased temperature, as well as low water levels from drought, have caused water temperature in Sawtooth salmons' migratory rivers to be dangerously high. In July, the warm water of the Snake and Salmon led Idaho Fish and Game biologists to transport returning Sawtooth sockeye upstream in a truck. The biologists trapped fish at the Lower Granite Dam and trucked them upstream to the Eagle Fish Hatchery, where they will be spawned. Throughout July, 201 sockeye were transported by truck upstream to the Eagle Fish Hatchery.
Apart from trucking them upstream, four sockeye have made the journey to Stanley naturally. It is great news that a few sockeye made the full migration, but conditions continue to look bleak. Typically, the first fish return to the Stanley area around the third week of July and they continue to return into September and Early October. As of August 7th, 617 sockeye reached the Lower Granite Dam, which is the last dam salmon must pass returning from the Pacific Ocean to the Sawtooth Valley. This is lower than historic numbers. This year's numbers at the Lower Granite dam are below the 10-year average of 800 sockeye, and a little lower than the 640 that reached the dam last year. The number that reaches the dam are higher than the number that reach the Sawtooth Valley, but a good indicator of the estimated fish that complete the journey. For example, of the 640 who returned to Lower Granite Dam in 2020, 151 returned to the Sawtooth basin. So, the less fish that are counted at the dam, the less fish that will complete the journey. There doesn't seem to be a trend of the last number of years for returning sockeye. There was a high of 1,579 that returned in 2014 and a low of 17 in 2019, with their 10 year average of 437. Every year due to environmental conditions, the numbers fluctuate.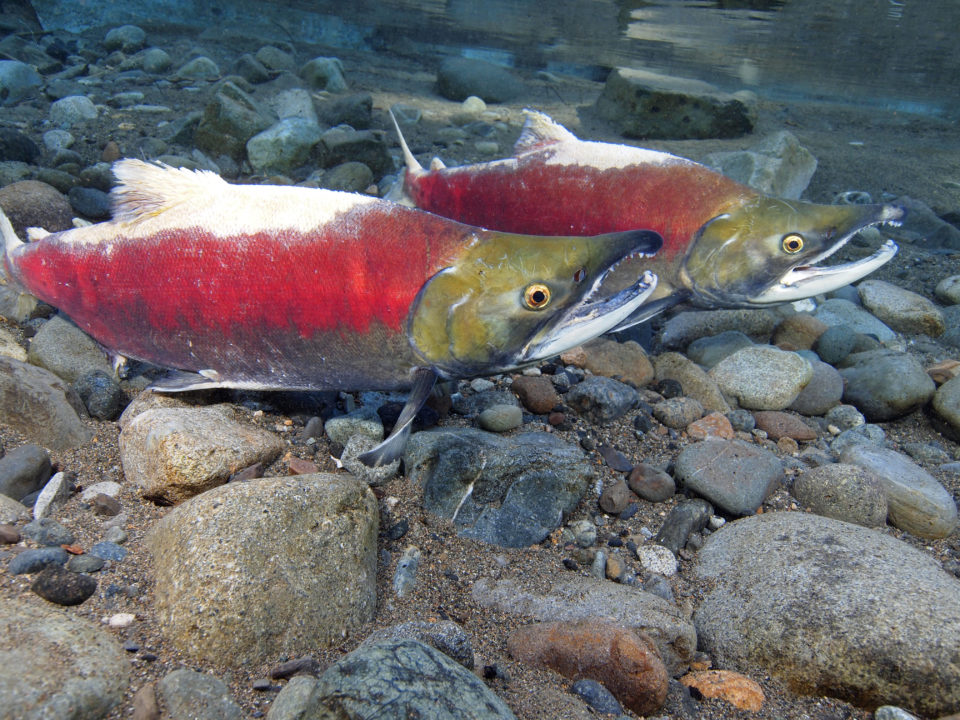 Other anadromous fish species have upheld and exceeded expectations of returns in relation to past years. So far this year, 2,003 hatchery steelhead have returned to the Sawtooth Valley. This number is recorded based on the number of steelhead that have reached the Sawtooth Fish Hatchery. This is about double each of the last four year's hatchery returns, contributing to double the last four years total steelhead returns. Numbers therefore for steelhead are expected to be higher this year than in years past. This seems to be an overall trend for Snake River wild steelhead –20,679 have returned to the Snake River, which is nearly double last year's 12,252 that returned and closer to the 10 year average of 28,911 steelhead. For Chinook, 893 hatchery fish have returned to the Sawtooth Fish Hatchery, which is a little lower than last year's 1,155 hatchery Chinook. Over the last four years, the total number of returning Chinook has been a little over 1000, and this year's returns are projected to be similar to past years numbers. However, overall returns of wild Chinook to the Snake River have declined. It is estimated that 6,966 wild Chinook have returned to the Snake River which is lower than last year's 8,556, and lower than the 10 year average of 16,030 that have returned.
With fluctuating numbers of returning salmon, it is important to note that these numbers are nowhere near the thousands of salmon that historically returned to the Sawtooth Basin. It remains a dire situation to support these dwindling populations. In order to sustain a population of salmon, scientists have found that we need a 4% "Smolt to Adult" ratio. This means that we need 4% of smolt that reach the ocean to survive and return to where they were born to spawn. Today, this ratio is at 1% for all of our wild salmon species, therefore no population is at a sustainable level. In order to reach numbers for sustainable populations, we need to reduce the interference we have on their waterways by removing dams and restoring habitat so they can once again swim without unnatural obstacles.
CeAnna Schwartz is a Naturalist at the Redfish Visitor Center & Gallery. She enjoys hiking, exploring alpine lakes and observing the change in vegetation at different elevations.
Sources:
https://idfg.idaho.gov/press/first-sockeye-2021-returns-stanley-area-aug-7
https://idfg.idaho.gov/fish/chinook
https://idfg.idaho.gov/fish/chinook/returns
Image Sources:
https://experience.arcgis.com/experience/f175e5c6f9ca487b80e795001e276a26/page/page_5/