Mist crossing Redfish Lake, grebe and merganser skating across the water, bird's chorus, and the glass reflection of a calm lake.  This is what greets you at dawn at Redfish and inspires not only my love of birds, but of photography.  No two days are the same; each brings another way to capture the beauty around me.
The Sawtooths veiled in the morning fog and the sailboats perching on the mist ready for adventure.
Little Redfish Lake  is a hidden gem most people pass on their way to the more popular Redfish Lake, but for those who take the time to stop it will  inspire  you too to take in the calm and quiet beauty.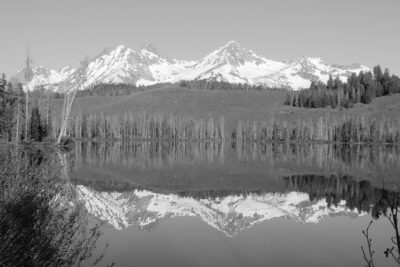 Calm and quiet beauty can be enjoyed either on the water or along its shores.  So take a leisurely trip across the lake by kayak, canoe, or paddleboard.  Or take a horseback ride from Redfish Corrals and follow the shoreline along the lake, behind the trees, and immerse yourself in the landscape.
By Naturalist Pam Williams