Take a moment and consider the last time you spent time in nature. Was your interaction face-to-face, or did you spend much of your time peering through a screen? Neither is right or wrong: while some outdoor recreationists may scorn technology on backcountry adventures, others find joy in capturing experiences via camera or smartphone. When it comes to sharing these images later, the field is likewise split. Depending on the stance you take, social media can have both a favorable and a detrimental effect on the environment. Regardless of its impact, it is an increasing reality in the world of outdoor recreation.
Often, social media is cited as a prime stimulant for outdoor recreation use. With the advent of quick and accessible ways to share photos and videos, more people have been able to see the beautiful scenery of the Sawtooths and learn about the recreational opportunities in this region. The use of "geotagging," a feature of several social media platforms that allows the user to share the location the photo was taken, has posed special concern for environmentalists as it draws attention to specific areas. The worry is that a large social media presence will lead to overuse of the area, a fate that has befallen such areas as The Wave in Arizona and Conundrum Hot Springs in Colorado.
Like elsewhere across the country, visitor usage in the Sawtooth National Recreation Area has increased, though these trends have not been specifically linked to social media use. The most recent data from a thesis statement completed by Chelsea Phillipe, shows an increase from 6,500 visitors in 1965 to over 27,000 visitors in 2015. This is still a long way off from the millions that visit National Parks each year, but the increase in visitor usage has many concerned about the condition of wilderness areas. More people equal a greater possibility for litter, improperly managed campfires, soil erosion, and other issues.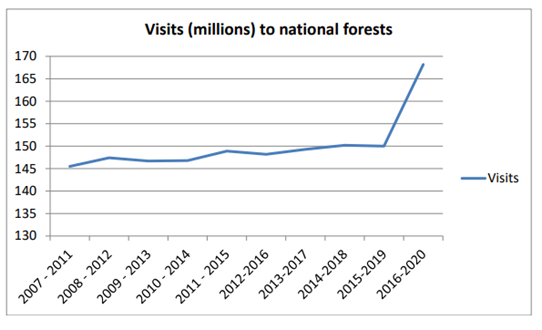 However, while social media may lead to an increase in overall recreators, it also has the ability to change who chooses to recreate outside. An estimated 74% of all recreators in natural areas are Caucasian, and the Sawtooth area remains behind national trends. Social media is one way to encourage more equitable access to outdoor spaces. New recreators can take to social media to find new places to explore and people from traditionallyunderrepresented backgrounds can see examples of and connect with others. Organizations such as Diversify Outdoors, Outdoor Afro, Fat Girls Hiking, and Latino Outdoors encourage diversity in outdoor recreation, which was and often still is dominated by white males
Social media is also helpful in increasing environmental awareness. Organizations such as Leave No Trace utilize social media to teach large audiences about environmental stewardship. They also encourage outdoor enthusiasts using social media to think about their actions and the potential consequences of posting photos, GPS data, detailed maps, and other site-specific information on social media. Would you have thought about social media and visitor usage today if not for this blog entry?
With all of this, I think that one of the most important ideas to consider is that of stewardship vs. ownership. When I recreate outside, one of the ways I respect nature and my fellow humans is by rejecting, in part, my ownership of the places I inhabit. I try to take time to consider, with every hike, the Native peoples who came before me as well as the natural history that influences the landscape and the generations that will follow in my footsteps.
My obligation to all these factions is not to withhold my experiences, but rather to share them with deep respect and responsibility. When I post my outdoor adventures to social media, I try to use my platform to perpetuate an understanding of responsible recreation in the outdoors. By acknowledging indigenous land rights, including scientific information in captions, and modeling Leave No Trace behaviors, I hope to both educate my peers and provide them with some insight into how to respectfully enjoy the outdoors.
We can use these communication tools to motivate visitors to advocate for the benefits of being outdoors and collectively taking care of valuable natural places. You can also be a source of ecological knowledge and a steward of the Sawtooths through the simple act of sharing nature-friendly stories and experiences. With so many new visitors to the Sawtooths, there is also an increased opportunity to teach others about the outdoors and share what makes this place special. Whether it is on Instagram or in a parking lot chat, I hope that you will take the time to help others help the environment.
Hailey Smalley is a naturalist at Redfish Visitor's Center. Her passion for environmental equity has led her to work at nature centers, schools, and camps across the country. She also taught English in Malawi before joining the Sawtooth Interpretive and Historical Association. When not working, Hailey can be found summitting mountains, identifying alpine wildflowers, or reading by mountain lakes.