Its 4:45 pm and I find myself half walking, half running through the crowds of people at Redfish Lodge in an effort to catch the 5 o'clock shuttle across the lake. I make it just in time to hop on the boat with a few other hikers. We exchange a few words about our plans for the evening; they plan to camp where the boat drops us off. I plan to venture about 6 miles into the wilderness and set up camp for the night at Alpine Lake.  I say goodbye to the boat driver and put on my hiking boots, already thinking about the relief of removing them at the end of my hike. As I feel the weight of my pack sink into my shoulders I feel the burden of my everyday stresses being lifted. I've been looking forward to this trip for days, eager to be alone and enjoy the solitude that the Sawtooth's have to offer. This trip is my first solo overnight trip in the Sawtooth's and I'm excited to be able to venture further into the wilderness than my day hikes have allowed. After a couple hours I make it to my destination for the night, slightly disappointed by the amount of people also camping at the lake. I make my dinner and settle in for the night, hoping that in the morning the crowds of people will dwindle as I hike further into the backcountry.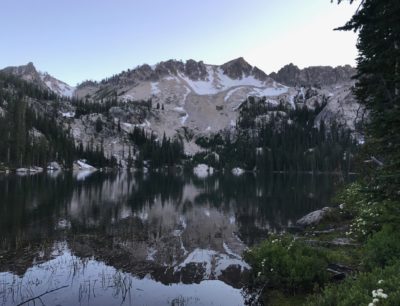 I wake in the morning to the sounds of people picking up their camps and heading back down the trail from which they came. I gather my things into my day-pack, happy to be rid of my larger pack for at least a few hours and begin heading further into the wilderness towards Baron Lakes. To reach the lake I need to hike over the Baron Divide. I was told it was beautiful but nothing prepared me for the indescribable view I experienced at the top. I was greeted by snow capped mountains, rugged granite features, and the bluest alpine lakes. I thought to myself, I could stay here forever and never tire of this view. By the time I reached my destination I realized I was the only person there, it felt as if I was the only person in the entire world. I dive into the icy blue waters of Baron Lake, and swim out feeling like my soul had been restored. As I sit on the banks of the lake I contemplate how I can feel so alone yet so complete at the same time.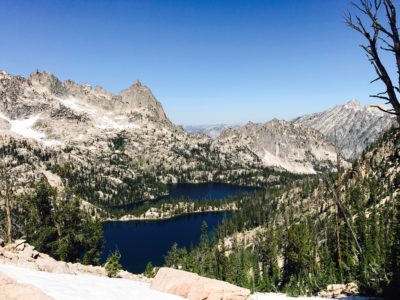 This summer I've begun to truly fall in love with being alone in nature. When i'm alone on the trail i feel a deep connectedness to my surroundings that lacks in my everyday life. Hiking alone is my version of meditating, with every step I feel my thoughts vanishing and my mind becoming clear. My everyday worries fade as I focus on putting one foot in front of the other. When I reach my destination a sense of ecstasy and an almost indescribable feeling overcomes me. I think that feeling relates back to the origins of human nature, that primal feeling of needing to explore what's in front of us, a modern day manifest destiny. I believe that these mountains hold a special power, the power to make us feel insignificant. These mountains loom over us as a reminder that this world is much bigger than we are and that we should be humbled to be a part of this life. I'm thankful for every moment I get to spend in these mountains and the lessons that they teach me. The solitude I've found here has been an important teacher. Constantly pushing me out of my comfort zone and forcing me to truly take a look at myself. I challenge everyone to spend a night out in the wilderness alone, you might just learn something about yourself you never knew.
Claire Mann, Naturalist
"I never knew anyone who felt self-important in the morning after spending the night in the open on an Idaho mountainside under a star-studded summer night"
– US Senator Frank Church