Sarah Cawley, Executive Director, is originally from eastern Pennsylvania, but now calls Idaho her home. She is a 2016 graduate from the State University of New York College of Environmental Science and Forestry in Syracuse, New York.  She is excited to spread her love and passion for the natural world to all those she interacts with. Sarah has a Bachelor's of Science in Environmental Education and a strong focus in Recreational and Visitor Management. Sarah has worked with the Sawtooth Association since 2014 as a Naturalist at the Redfish Center, and has moved to New York and then Massachusetts in the off season to expand her knowledge of outdoor education. After her three years with us, Sarah is excited to be the Executive Director for such an inspiring and amazing organization.
Laurii Gadwa, Outlet Sales Manager and Bookkeeper, is a 1978 graduate of the University of Idaho with a B.A. in Theater Arts, Child Development, and Psychology. The mother of two children, she also helped raise numerous foster children. Laurii, who has a deep-rooted interest in and dedication to the Sawtooth-Salmon River Country, is one of the original founders of SIHA. She worked for the organization as its executive secretary from 1980 to 1987 when it was known as the Sawtooth Interpretive Association. During that time, she was instrumental in the Valley Creek Ranger Station remodel and hired the first intern to develop the Stanley Museum displays. After retiring from managing the Redwood Motel in 2005, she rejoined the SIHA team as its Outlet Sales Manager and Bookkeeper.  In her 30 plus years of living in Stanley, Laurii has been an integral part of the community. She has served continually as a member of the Sawtooth Mountain Mamas, a community service organization; organized the Mainstay Council, Custer County's first domestic violence council; and served twelve years on the Challis School Board. Laurii also was a Stanley Library Board member, and is a second term Stanley City Councilwoman.
Katie Gray, Lead Naturalist, grew up in the foothills of the Appalachian Mountains in north Georgia where each summer she explored the eastern woodlands. The first time she moved to the "big city" was for college at Kennesaw State University, where she graduated with a Bachelors of Science in biology in 2013. Since then, she has migrated all around the country to work as a naturalist in Yellowstone National Park, an interpretive park ranger in Tennessee and in North Carolina, and as a biological science technician tracking down the elusive Kemp's ridley sea turtles on Padre Island National Seashore in Texas. Katie is eager to share her passion for America's public lands in hopes that it may inspire others to form their own appreciation of the Sawtooth National Recreation Area. She looks forward to a great season promoting conservation and outdoor education with SIHA!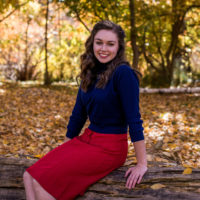 Aimee Rollins, Museum Docent, is a 7th generation Idahoan who calls Pocatello home. She is a 2018 graduate of Boise State University, where she obtained a B.A. in History and a minor in Anthropology. She plans to continue her studies and obtain a master's degree that will allow her to preserve historic architecture. Previously, she interned with the Idaho State Historical Society and lead tours of petroglyphs at Celebration Park, Idaho's archaeological park. She has a passion for education and is excited to bond with locals to learn as much as she can about the beautiful Sawtooth Valley. She looks forward to helping visitors connect with the unique story of the people who made the region what it is today.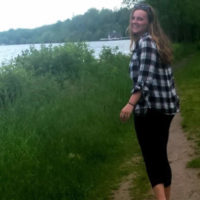 Kim Oswald, Naturalist, is currently a student at the State University of New York College of Environmental Science and Forestry majoring in Environmental Studies with a focus in Communication and Society. She is from a small town in upstate New York, but fell in love with the environment during her summers in Northern Ontario, Canada. She has experience in environmental education in both the classroom and outside on the trails. She looks forward to connecting everyone to the beauty of the Sawtooth Mountains this summer.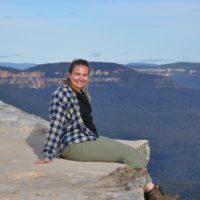 Emma Adams, Naturalist, is a student from the University of Wisconsin- Stevens Point studying Environmental Education and Interpretation, minoring in sustainable energy. Originally from Green Bay Wisconsin, Emma has learned and studied ecosystems ranging from the Australian Bush, Volcano Fields of Hawaii,  Appalachian Mountains,  to the Northwoods of Wisconsin. In her free time she enjoys, hiking, playing her cello and crocheting. Her love for the outdoors and learning has given her a zest of sharing the outdoors with people. She is looking forward to exploring the Sawtooth-Salmon River Country and interacting with its visitors.
Thomas Welch, Naturalist, grew up in Georgia exploring the creeks and forest in his backyard. In 2015, he graduated from the University of Georgia with degrees in Psychology and Cognitive Science. Since graduation, he was worked from coast to coast  sharing his love of exploration as an environmental educator. In his free time, he enjoys all things outdoors from hiking, to climbing, to photography. He is excited to get to know the Sawtooth National Recreation Area and its people.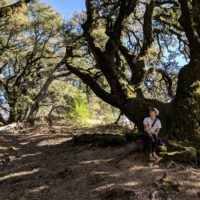 Gabriela Velazquez, Naturalist, graduated from Texas State University a few years ago with a degree in Recreational Administration and without a clue as to where it would take her. Her work travels have allowed her to live in Texas, Pennsylvania, Georgia, Washington, and California where she has had the opportunity to share the wonders of several different ecosystems with people of all ages. The outdoors are her happy place and she looks forward to sharing that joy with the visitors of the Sawtooth Mountains.
Alexandra Grove, Naturalist, is a recent graduate from SUNY Environmental Science and Forestry with a degree in Environmental biology and a focus in education and interpretation. She has worked closely with Clark Reservation State Park as an education steward and park naturalist. She is a part of the Council of Park Friends, a not-for-profit organization responsible for operating and improving the nature center at Clark Reservation. She enjoys hiking, reading, and traveling. Her passion for the environment drives her to share her knowledge and inspire others to become more environmentally conscious.  As a lifelong New York resident, she is looking forward to exploring Sawtooth and interacting with its visitors.
Elizabeth Crowther, Historic Specialist, was raised in Boise, ID and has worked the last three summers in Sawtooth National Recreation Area. She is very grateful to her parents who continually took her hiking in the Sawtooths, and through this, she developed a love for the outdoors. After spending two years attending Willamette University in Oregon she returned to her roots in the Gem State. Now, she is a senior at Boise State University completing an undergraduate degree in the Geosciences with an emphasis in Hydrology. While attending college, Liz has worked for a conservation based political organization interacting and informing the public about Idaho policy, especially regarding the protection of public lands. This summer, she looks forward to teaching the history of Stanley and the SNRA, while instilling a passion for the Sawtooth to others.