2022 Summer Jobs
At this time all summer positions have been filled. We post seasonal openings each December and begin interviewing applicants mid-January. Our deadline for applications is open until filled.
Priority consideration will be given to applicants who submit all requested documents by January 9, 2022. Complete applications must include a cover letter, resume, and contact information for three professional/academic references. Below is information relevant to all positions. The positions we offer are outlined in job descriptions here:
FILLED

– Naturalist – works together to operate the Visitor Center, provide daily interpretive programs, staff trailhead portals and more!

FILLED

– Lead Naturalist – manages daily operations at the Redfish Visitor Center & Gallery and supervises naturalists.

FILLED

– Museum Docent – manages daily operations at the Stanley Museum and supervises the historic specialist.

FILLED

– Historic Specialist – works together to operate the Museum, creates exhibit and works on preservation projects.
Location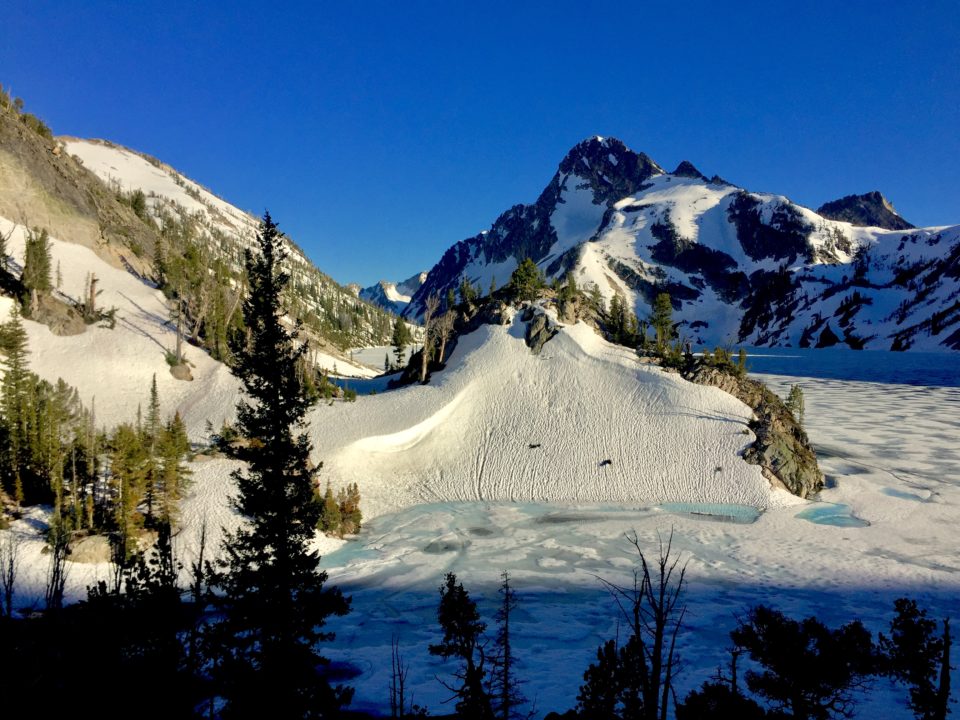 Well, this isn't exactly the location but a quick five mile hike will get you to here. Volunteering in the Sawtooth National Recreation Area (NRA) in Stanley, Idaho offers a great opportunity for someone seeking a summer experience in a unique and spectacular setting. The Sawtooth NRA encompasses 756,000 acres in the "Heart of Idaho" where rugged peaks, alpine lakes, free running streams and breath-taking scenery abound. This stunning landscape inspires quiet introspection and observation as well as offers unlimited opportunities for hiking, fishing, mountain biking, camping, boating, and many other recreational activities.
General Responsibilities
(relevant to all positions)
Research, develop, and present specialized interpretive programs relevant to the visiting public of the Sawtooth NRA, including but not limited to guided walks, Junior Ranger activities, discovery stations, patio talks, boat tours, trailhead portals and evening programs. Locations may include the Redfish Center, Stanley Lake, the Stanley Museum, or other venues. Assess and modify programs, as needed.
Provide information about the area and trip planning assistance at the Redfish Center and Stanley Museum.
Assist with sales of SIHA maps, guide books, educational books and gifts and related items at the Redfish Center and Stanley Museum.
Coordinate one SIHA event (assigned at beginning of season). Strategic "blueprints" for each event are provided.
Advertise for SIHA events (through creating and posting fliers, social media, and word-of-mouth).
Participate in SIHA community events focused on providing education on natural and cultural resources and environmental awareness.
Attend and participate in training sessions/seminars.
Attend Forum & Lecture Series each Friday.
Participate in outreach to develop and maintain partnerships
Complete SIHA paperwork accurately and ontime(time sheets, program number records, etc).
Participate in daily, weekly, and seasonal cleaning/maintenance procedures to keep everything in working order. This includes seasonal opening and closing duties.
Wear facemask during working hours and follow all procedures, regulations, and safety measures put in place related to COVID-19.
Testimonials
Working for SIHA in the summer of 2020 is one of my career defining summers. The Sawtooths are a beautiful and unique range, and I was able to enjoy it to the fullest with all of the other interns. Spending every day talking with visitors to the area and community members helped me understand the diversity of people's relationships with the Earth. At the same time being mentored and learning about education and interpretation built a foundation for my career in environmental work that I will continue to build upon. Just like a lodgepole needs a mountain to root into, working with SIHA taught me that understanding the natural world needs to be rooted in teaching others about it as well. –Bryce Johnston, Naturalist, 2020
Working for SIHA in 2020 made for the most memorable summer of my life. I got to work with some incredible people, create great memories, and have beautiful views all day every day. Our Executive director and Lead Naturalist did an exceptional job working with us and making sure we were happy! I would absolutely recommend working for this awesome non-profit if someone is looking for a summer job. Best summer ever! –Annie Schawe, Naturalist, 2020
I got the chance to work for SIHA the summer of 2018. Not only did I get to spend my time in the beautiful mountain ranges, I was able to learn about the natural history of the area and Idaho as a whole. Each day I was excited to get up and interact with visitors and grow my Interpretation skills. Working in Stanley gave me access to great friends, fun times, and amazing places to hike and backpack. The experience was magical and I would highly recommend it to anyone looking to start in the field of Interpretation. –Emma Adams, Naturalist, 2018 & 2019
Working with SIHA was one of the best experiences. Not only did I get to improve my interpretation skills, but I got to learn how to talk to diverse groups of visitors from all over and connect them to the Sawtooth Mountains. SIHA members work hard to make sure that all visitors get to experience and learn about the mountains, and to that we felt at home. I wouldn't trade my summer of street dancing, hiking, boating, and meeting amazing people for anything. –Kim Oswald, Naturalist, 2018
I worked as the museum docent during the 2018 season. During my time there I grew both professionally and personally, and it was hands down the best summer job I've had yet. I worked with some wonderful people, learned a lot of local history, and had the chance to implement my own ideas in the museum. The summer I spent in Stanley gave me a greater appreciation for the natural beauty of Idaho and the rugged people who made a home there. I also found that I love to summit mountains, and I l enjoyed the quiet, scenic beauty of the S.N.R.A. so much I wore out my hiking boots by August. –Aimme Rollins, Museum Docent, 2018
During the summer of 2016 working for SIHA, I gained experience and flexibility leading programs for a multitude of visitors of all ages, hiked over 200 miles through the breathtakingly beautiful surrounding wilderness areas during my days off, and I made life-long friendships living and working with the other naturalists in the program. I am now starting a career as an environmental educator, and I feel empowered through my time at SIHA in my ability to teach and communicate with anyone, anywhere, at any time. –Sadie Perrin, 2016
I worked for SIHA the summer of 2015. Working as a naturalist for SIHA remains one of my favorite seasonal positions, due to the friendly co-workers, wilderness exploration opportunities, and the personal growth and confidence I acquired through environmental teaching. Stanley is a unique place that will steal your heart if you ever have the opportunity to call the town home. I will forever be thankful that my summer in Stanley helped me discover my love of solo hiking and camping. –Bethany Unger, 2015
I worked for SIHA during the summer of 2015. I learned the importance of connections and how they alone can influence the way people view their surroundings. In the Stanley Basin, I was able to educate its visitors of the almost non-existent growing/decomposing season which I connected to the Leave No Trace principle. Visitors presumably paid careful attention to even the tiniest pieces of their garbage when taking a bite of their snacks while on a hike later that day. Working for SIHA was a magical experience. We were always attending dinners with our board members, we had time to explore the vast wilderness that surrounds the valley and created some of the most intriguing entertainment to the community and its visitors. When we were not working or exploring, we were usually submerging ourselves into the culture of a seasonal life in Stanley. Although not many residents stick around all year, there is always someone to connect with on a deeper level through dancing the night away or sharing stories from back home over a roasting fire. It sounds romantic, that's because it is my friends! –Nytashia Allbritton, 2015
I worked with SIHA in the summer of 2014. As a naturalist, I gained invaluable knowledge on the area including (but definitely not limited to) geography, history and ecology. I felt like part of the team from the moment I arrived, and thanks to the passion, leadership and dedication of the staff and board of SIHA I now consider myself well-versed in all things "Sawtooth". The small community of Stanley is full of happy souls who all have one thing in common: a love of their town and surrounding mountains. And for good reason. The valley is a menagerie of all the best the west has to offer. Working with SIHA and sharing my love and knowledge of the area with visitors was one of the most rewarding things I have ever done. I now work as a Range Technician with the Sawtooth National Forest performing sage-grouse research, and I attribute where I am today to my season with SIHA. –Becca Aceto, 2014