Sawtooth Forum and Lecture Series
Since 2008 the Sawtooth Association has sponsored the annual Sawtooth Forum and Lecture Series. These programs provide visitors and locals the opportunity to hear experts in local history, fish and wildlife, geology, environmental issues, and the arts share their work and latest research results related to this magical Sawtooth-Salmon River country. What fun to learn more about the special critters, characteristics and culture that make this a very, very, special place! Past presentations have included pronghorn antelope, rare flowers and plants, Whitebark Pine ecology, fire ecology, wolverines, wolves, salmon, and raptor ecology featuring live birds of prey. Geologists have explained how the Sawtooth Valley was formed and about the recently discovered Sawtooth Earthquake fault! Historians have shared the history of the conservation movement in the West, Native Americans, and of the early settlers, miners, ranchers and scientists in the Sawtooth country. Local writers and poets have shared their work as well. These programs are free of charge (donations accepted!). This fascinating and wide ranging lecture series is sponsored by SA and would not be possible without the generous community support of Idaho Rocky Mountain Ranch, Sawtooth Society, Redfish Lake Lodge, National Environmental Education Foundation, the Val A. Browning Foundation, and other individual donors. We cannot thank these generous organizations and individuals enough for their essential financial support! We look forward to seeing you at these fascinating and informative presentations. 
2021 Forum and Lecture Series will be held at the Stanley Museum every Friday starting July 9 – August 27 at 5pm.
July 9 
Dr. Jaime Goode 
Fires, Floods, and Fish: Climate Change in the Middle Fork
This presentation will discuss wildfires, debris flows, and climate change as agents of morphologic and aquatic habitat change in the Middle Fork of the Salmon River. Examples come from published studies and over a decade of field studies, which are further informed by recreational floating experiences.
Dr. Jaime Goode developed her early connections to nature by skiing in the mountains and whitewater kayaking on the rivers of upstate New York and New England. She followed her fascination for flowing water to Connecticut College (B.A. Environmental Studies, 2002) and Colorado State University (M.S. Geosciences, 2005; Ph.D. Earth Resources, 2009) where she rapidly discovered the field of fluvial geomorphology. Her professional pursuits have varied across ecosystems and hydroclimates within the US and abroad. She has led international multidisciplinary investigations in the areas of climate change effects on stream morphology and aquatic habitat; large wood dynamics and sediment transport responses to wildfire and debris flows; and hydraulics, sediment transport, and erosional processes in bedrock streams. A continued curiosity for riverine ecosystems drives her to apply knowledge of physical processes to directly inform management, conservation, and restoration activities with broader sustainability objectives.
July 16 
Jeff Gabardi, Mining Engineer, Retired USFS 
Stories of Miners and Prospectors in the SNRA
Jeff Gabardi, Mining Engineer, USFS Retired will share stories about the miners and prospectors he met personally while doing mining claim inspections for the Forest Service in the early 1980s. Some of the characters he met were good geologists, some were good prospectors, some could tell a good story, some could tell a good lie, but all of them knew the mother lode was just one shovel away!
July 23 
Julie Meissner, Rebekah Cain, and others! 
The Guiding Life: Perspectives from Idaho Women Guides
Join SIHA for this special forum to hear about life as a guide in the Sawooth and Salmon River Country. Enjoy spirited tails and learn what has changed over the years from local guides.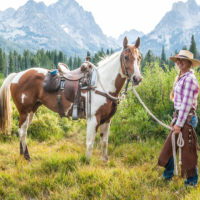 Rebekah Cain is one of the owners and operators of Mystic Saddle Ranch located in Stanley, Idaho. Rebekah began guiding for Mystic Saddle Ranch in 2010 during her summer breaks from college. She received her Bachelors of Science degree in geology with an environmental emphasis and graduated Cum Laude from Northern Arizona University in 2013. She and her husband then guided year round until they purchased Mystic Saddle Ranch and Northside Horse Outfitters in 2016. Since becoming an owner, Rebekah has focused on training new guides and packing and guiding overnight trips into the Sawtooth Wilderness. She is very passionate about conservation, horses, educating the public and the recreational opportunities in her home state.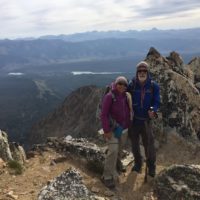 Julie Meissner has lived in the Stanley area for the last 40 years. She originally moved here to work as a backcountry ski guide in winter, which she did for 25 years. She started her summers in this area as a backcountry ranger and quickly found her way from there to the local rivers working as a whitewater and fishing guide, particularly on the Middle Fork of the Salmon. In 2000 she started her own fishing business, Sawtooth Fishing Guides, where she focused on outfitting and guiding on the Main Salmon River, the headwaters of the Middle Fork, and many local lakes and streams. She sold in 2010 to Silver Creek Outfitters and now guides for them and spends as much summer time as possible in the mountains or on the water. As Julie puts it, "I spend my summers doing mountain goat and fishing research! Very informally!"  
Bev Angel moved to the Stanley area in 1973. She worked in a wide variety of jobs to make her living. She has been guiding on rivers for about 35 years and still loves it.
July 30 
Professor Tim H. Frazier 
Cosmic Artillery: Meteors and Their Impact on our Planet and Civilization
Meteors have struck the earth for billions of years and literally shaped the course of its evolution. Humans have both suffered and benefited from their impacts. This presentation will show where they originate, how they affect us and what we have learned from them.
On December 28, 1986, Tim Frazier signed his first contract with Idaho State University beginning a career he initially thought would be short lived. After 27 years, he retired a Professor Emeritus from the Mass Communication Department in 2013.
His undergraduate degree is in mechanical engineering from Vanderbilt University, he has published papers on eclipsing binary and earned his MFA from the University of Florida. There he studied under Jerry Uelsmann, Evon Streetman and Duane Michals. He taught at Fred Picker's Zone VI photography workshop in Vermont for 18 years. Frazier has work in over a dozen international collections including the Tampa Museum of Art, the Fuji Corporation Collection, the Art Institute of Chicago and the Museum of Modern Art in New York City. He was selected as an Idaho Living Artist in 1991. Since 2004, his work has been peer reviewed and chosen for presentation at international arts and humanities conferences including those at Cambridge University, England and the University of Edinburgh, Scotland.
In addition to his fine art work, he was the faculty sponsor for a NASA funded, high altitude balloon project. He served in this position for six years. This project launched experiments and cameras to altitudes in excess of 90,000 feet. The results of one of these experiments were used by NASA to develop tests for bacterial life on Mars. In 2009, Frazier headed a team from ISU that built an experimental capsule which was launched into space by NASA. He is also an avid outdoorsman, fisherman, woodworker, amateur astronomer and telescope maker.
Dark sky viewing: I plan to bring two telescopes, one for deep sky viewing that is connected to a computer monitor so groups can see the objects without looking through an eyepiece. The other scope will be used for general viewing of Jupiter, Saturn and possibly Neptune. The best site for this would be outside of town in as dark a location as possible. The semi-dark site would work but not be as good.
August 6 
Dr. Jen Pierce 
Climate Change in Idaho: Past, Present, and Future
This forum will explore natural and human-caused changes in climate, and will address some of the primary effects of climate change in Idaho. We use records of wildfire activity from the Stanley Basin and the South Fork Payette River as a lens to examine changes in wildfire, snowpack, and drought in the western USA.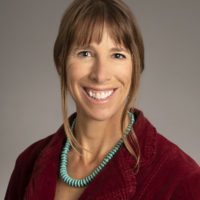 Dr. Jen Pierce is an Associate Professor at Boise State in the Department of Geosciences, where she has been since 2005. Her research focuses on wildfires, climate change, and landscape response; she is also committed to climate science education and outreach at the K-12 level and beyond. Dr. Pierce grew up in Colorado and Wyoming, and received her undergraduate degree from The Colorado College, her master's degree from the University of Oregon, and her PhD from the University of New Mexico. Dr. Pierce serves on the Board of Directors for the Friends of the Teton River and is the director of the Idaho Climate Literacy Education Engagement and Research program (i-CLEER). When she is not working, she enjoys mountain biking, backcountry skiing, playing music, and exploring the outdoors with her family and dog.  
August 13 
Jessica Pollock, IBO Lead Hummingbird Biologist; 
Heidi Ware Carlisle, IBO Education and Outreach Director
Hummingbirds: Gems of Idaho
Join researchers from the Intermountain Bird Observatory (IBO) to hear about Idaho's hummingbirds! Learn more about IBO's hummingbird research projects in the Wood River Valley and Idaho City, and fun facts about these flying gems!
Jessica Pollock joined IBO in 2011 after a variety of field jobs across the US and Canada and then completing her MS degree studying cavity-nesting birds from the University of Idaho. Jessica co-manages the IMBCR point-count program across Idaho and Utah. She pioneered IBO's hummingbird banding project and is co-chair of the NABC hummingbird sub-committee. Jessica teaches annual banding workshops and is an NABC-certified hummingbird, songbird and raptor trainer. Originally from beautiful British Columbia, she now heads up IBO's "satellite office" near (the equally beautiful) Sun Valley, Idaho.
Heidi Ware Carlisle joined IBO in 2008 when she volunteered as an undergrad intern at Lucky Peak. She worked at IBO throughout her bachelor's degree, then went on to earn her M.S. in Biology from Boise State in 2014, where she studied the impacts of traffic noise on migrating songbirds. As Education Director Heidi coordinates our Boise River Research Station, runs our social media pages, conducts field trips, and teaches courses. Heidi focuses on using IBO's strengths in hands-on science and community involvement to integrate K-12 science education with bird conservation.
August 20
Dave Kimpton
Mountainous Events | Join us for readings from Dave's debut book, Mountainous Events, where you may hear about a harrowing rescue after a 4-day blizzard, a wild night at the Stanley Club, or an interesting experience at a Rainbow Gathering.
Dave has been a resident of the Sawtooth Valley for so long that it is rumored he came out west with the first fur trappers. You will enjoy the adventures, misadventures, and confessions of a young Forest Service Zone Manager. His moniker, known to numerous terrified friends and acquaintances, is "Dangerous Dave's Expeditions." Every word of his stories is the truth, the whole truth, and everything but the truth.
POSTPONED:
Dr. Erik Beever 'American Pika: Vulnerability, Resilience, Conservation' | Insights into patterns of vulnerability, resilience, and climate-adaptation planning, conservation, and management actions in western mountains, from 27 years of American-pika research.
A wide-ranging presentation that covers a diversity of topics, from why mountains constitute wonderful and important natural laboratories, to why pikas are both endearing but also a great model to address innumerable questions, to providing a high-level overview of lessons learned from across western North America. We will discuss how results depend on the study's context, what results tell us more broadly about species dynamics in remote mountain systems, and how these results inform climate-adaptation management and conservation.
Dr. Erik A. Beever is a Research Ecologist at the Northern Rocky Mountain Science Center of the U.S. Geological Survey and is Affiliate Faculty in the Ecology Department at Montana State University. Dr. Beever has publications in diverse scientific journals and in diverse subdisciplines of biology. He is a member of the IUCN World Commission on Protected Areas (where he serves as the North American Representative for the Mountains Network), the IUCN SSC Lagomorph Specialist Group, and the IUCN SSC Climate Change Specialist Group. He is also a member of The Wildlife Society (in which he chaired the Biological Diversity Working Group), Society for Conservation Biology, American Society of Mammalogists, World Lagomorph Society, Mountain Research Initiative, and the Consortium for Integrated Climate Research in Western Mountains. He has served as a peer reviewer for nearly 60 scientific journals, and delivered >200 presentations to local to international audiences. He has performed field research on plants, soils, insects, reptiles, amphibians, birds, fish, and small, medium, and large mammals, and in a range of ecosystems of the western hemisphere. In addition to investigating numerous aspects of disturbance ecology, he also seeks to understand mechanisms of biotic responses to climate variability and change, and monitoring in conservation reserves, all at community to landscape scales, as well as other topics of conservation ecology, wildlife biology, and landscape ecology. He is interested in questions at the nexus of basic and applied science, especially those that also inform management and conservation efforts for species, communities, and ecosystems. After receiving his undergraduate degree in Biological Sciences at U.C. Davis, Erik received his Ph.D. from the Program in Ecology, Evolution, and Conservation Biology at the University of Nevada, Reno.
August 27 
Kris Millgate, Tight Line Media CEO 
Ocean to Idaho
Follow salmon migration 850 miles from the ocean to Idaho. Impossible. Do it during a global pandemic. More impossible. What does it take to pull off the unbelievable during a catastrophic moment in human history? Somehow, outdoor journalist Kris Millgate found the answer, but it took more out of her than she anticipated. Hear her shocking back story and learn more about her stunning salmon documentary, Ocean to Idaho, premiering in August 2021. Join us as we discuss the iconic fish that's disappearing in the Pacific Northwest.
Outdoor journalist Kris Millgate spent a decade in TV news before starting Tight Line Media in 2006. With a quarter century of multimedia storytelling, Millgate traverses the country in search of dynamic topics. She researches issues thoroughly then translates core elements via video, photo and words with credibility that demands audience. Tight Line Media productions tour with film festivals and win national honors. As producer, writer, videographer, photographer, certified drone pilot, editor and gear hauler, Millgate engages in every project with inspiring enthusiasm and unmatched intensity.
In the edit bay, she never tires. In the field, she never stops. She hikes, bikes, rows and flies her cameras into the wilderness to collar grizzlies, catch native trout, and count bald eagles. Millgate is vice president of Outdoor Writers Association of America, a life member of Trout Unlimited and a certified Idaho Master Naturalist. She's also a trail runner, fly fisher and avid seeker of awkward moments.
She's currently reporting for USA Today, Idaho Public TV and East Idaho Outdoors. Her first book My Place Among Men is available now. The sequel, My Place Among Fish, publishes July 2021. Her salmon film, Ocean to Idaho, premieres August 2021.