As the keeper and teller of stories of the Sawtooth Salmon River Country, SIHA maintains an archive of oral histories and continues to acquire more. These interviews teach us about the colorful and influential individuals who shaped our community and the landscape. There are vivid characters who tell about the old Ace of Diamonds Dance Hall, the first sheriff in Stanley, and life with the U.S. Forest Service when the Sawtooth National Recreation Area was first established.
If you have knowledge of the Sawtooth-Salmon River Country in the early days or know of someone who does, please contact us at 208-774-3517 (summer only), or send us a message.
SIHA is continually working to collect oral histories as well as transcribe and share them electronically. At present they are only available upon request.
If you are interested in volunteering to help transcribe the collection and help to make them available online please reach out!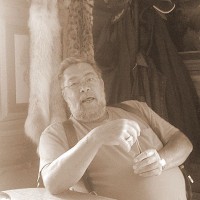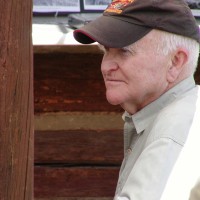 This list is not exhaustive but illustrates the breadth of the Sawtooth Association's archive. Please ask if you are interested in a specific person.
Shirley Linford Athy – (audio and written transcript)
Jim Bennetts – interviewed by SIHA, 2008
Iris Boyd – interviewed by SIHA, 2006
Sandy Brooks – interviewed by Forest Service staff, 1974
Howard Brown – interviewed by SIHA, 2008
Tom and Aileen Chivers – interviewed by SIHA, 2008 (video and written transcript) interviewed by the Community Library Association, Ketchum ID, 1983; on ranching in the Stanley Basin
Stella Critchfield – interviewed by Forest Service staff, 1974
Bob Cole – interviewed by SIHA, 2008
Dean Cronmiller – audio interview by SIHA 2009
Alta Ellis – interviewed by Forest Service staff, 1974
Virginia Finkelnburg – interviewed by SIHA, 2008; on life in the Sawtooths as a wife and mother
Mattie Hansen – interviewed by Sawtooth Mountain Mamas, 1990
Mel Jensen audio interview SIHA 2009 early Redfish Lake Lodge owner
Swan and Mary Jering – interviewed by Sawtooth Mountain Historical Program, 2002
Tom Kovalicky – SIHA, Sawtooth Forum and Lecture Series presentation, 2008 – Interviewed by SIHA, 2008; on his time in Stanley as a Forest Service Ranger
Don Lanier – interviewed by SIHA, 2009 (video)
Lanier family members – interviewed by SIHA, 2009
Gordon Larson – interviewed by SIHA, 2008
Jack Lavin – interviewed by SIHA, 2009
Joe Leonard – interviewed by SIHA, 2008; on his time in Stanley as a mountaineer and backcountry guide
Edna McGown – interviewed by Forest Service staff, 1974 – interviewed by Sawtooth Mountain Mamas, 1998 – (written transcript only) interviewed by Community Library Association, Ketchum, ID, 1983; on family history and life in the Sawtooths – reception at Stanley Museum, 1993
Kelly and Elberta McKean – interviewed by Sawtooth Mountain Centennial Project, 1995
Sadie Merritt – interviewed by Forest Service Staff, 1974
Merritt Family – interviewed by Sawtooth Mountain Mamas, 1974
Jack Seagraves – interviewed by Forest Service staff, 1974
Shaw family members – interviewed by Sawtooth Mountain Mamas, 1995
Judy Smith – interviewed by SIHA, 2009
Bill Sullivan – interviewed by Sawtooth Mountain Mamas, 1974 and 1988
Marie Sullivan (Williams) – interviewed by Sawtooth Mountain Mamas, 1988
Dick Waite – interviewed by SIHA, 2008
Margurite Wells, Illene Wells-Burr and Iris Burr – interviewed by SIHA, 2006
Carrie Williams – interviewed by Forest Service staff, 1974
Morgan and Tiny Williams – interviewed by Forest Service staff, 1974 – interviewed by Sawtooth Mountain Mamas, 1988
Ted Williams – interviewed by Forest Service staff, 1974
Dan Wooley – interviewed by Forest Service staff, 1974