SAWTOOTH FORUM & LECTURE SERIES
5pm every other Friday at the Stanley Museum. 2023 Program dates:
June 30 | July 14 | July 28 | August 11 | August 25
Special edition of the SIHA Summer Series – September 22 – at the Community Library in Ketchum, Idaho.
Grizzly Bears and the Bitterroot and Central Idaho Wilderness presented by Steve Nadeau, Wildlife Biologist
Wildlife biologist, author, and grizzly bear specialist Steve Nadeau will share his work in grizzly bear recovery and recently verified grizzly bears activity in central Idaho. Additionally, he will provide readings from his latest book, Journey of the Bitterroot Grizzly Bear.
Biologist and author Steve Nadeau grew up in Northern Maine on the Canadian border exploring the North Maine woods. He graduated from High School in 1975, the same year grizzly bears were listed under the Endangered Species Act. He worked on the Maine black bear project and moved west to work with and study grizzly bears in Yellowstone and Glacier National Parks, British Columbia, and Alaska.
Nadeau earned a B.S. in Wildlife Management from the University of Maine and an M.S. in wildlife biology from the University of Montana, resulting in a thesis focused on grizzly bear-human conflicts in Glacier National Park, Montana. He held a number of wildlife positions in his early career including bear management in Glacier National Park, and wolf research in central Idaho. Those were followed by 30 years with the Idaho Department of Fish and Game – enforcing laws and managing habitat and wildlife. Nadeau was the Idaho Fish and Game's first large carnivore manager overseeing the state's wolf, grizzly, black bear, and cougar populations. He focused 20 of those years working on grizzly bear recovery in the Bitterroot Mountains of Central Idaho.
Nadeau was awarded "employee of the year" at Idaho Fish and Game for his work with grizzly bears and wolves, and was also awarded a lifetime achievement award by the Interagency Grizzly Bear Committee for his work on the Bitterroot Ecosystem grizzly bear recovery effort.  His book, Journey of the Bitterroot Grizzly Bear, was nominated for book of the year at the national Wildlife Society book awards.  Nadeau retired from IDFG in 2017 but remains active in grizzly bear recovery efforts. He lives with his wife, Kara, their horses, and several pets in Boise, Idaho.
What lies beneath: how the Idaho Batholith influenced the Yellowstone-Snake River Plain supervolcanoes presented by Kathrine Potter, PhD
Between 12 and 10 million years ago, the central Snake River Plain was the site of anomalously hot and extremely voluminous supervolcano eruptions. Tiny minerals recovered in drill cores tie the unique characteristics of these eruptions to the Idaho Batholith. This program will share how the Idaho Batholith influenced the eruptive characteristics of the Yellowstone-Snake River Plain supervolcanoes.
Katie Potter was raised in southwest Colorado between the Colorado Plateau and the San Juan volcanic field. Her fascination with volcanoes began early, and she's spent her scientific career exploring the links between crustal architecture, hotspot magmatism, and the eruptive characteristics of volcanoes in the Snake River Plain and Walvis Ridge. Katie received her BS at Fort Lewis College, her MS at Idaho State University, and her PhD at Utah State University, and, after forays in the mining and oil and gas industries, she's now an assistant professor of professional practice at Utah State University
Multiple Voices, Varied Spaces: Literature and History in the American West presented by Amanda J. Zink, PhD
Join us as Amanda provides an overview of the diverse peoples that live and have lived in Idaho and other parts of the West, with a focus on Shoshone-Bannock women and their writing in a reservation-produced newspaper, The Sho-Ban Tevope, during the 1930s.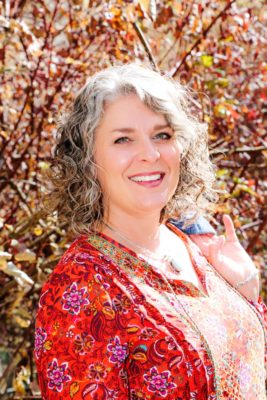 Dr. Amanda J. Zink is a Professor of English at Idaho State University. She received an MA in English at the University of Massachusetts, Boston and a PhD in English at the University of Illinois at Urbana-Champaign. Her work focuses on American literature from the margins, written by Americans who, because of their gender, sexuality, race, ethnicity, or Indigeneity, find themselves struggling to be included in the American body politic and its narratives.
In addition to several journal articles and book chapters on these topics, Zink's first book was published by the University of New Mexico Press in 2018.  Titled Fictions of Western American Domesticity: Indian, Mexican, and Anglo Women in Print Culture, 1850-1950, this book looks at the (literary) history of women's involvement in Westward Expansion.
She is nearly finished with a manuscript, under contract to be published by Texas Tech University Press. With the working title of In Their Own Words: Student Writing at The Chemawa Indian Boarding School, 1900-1930, this second book is an anthology on various topics written by Native students at the Chemawa Indian School in Salem, Oregon. Including biographies of each student writer, this book will provide easier access—for researchers, general readers, and Indigenous families—to a nearly forgotten canon of Native writing that is a rich site documenting the adaptation and survivance of American Indians during the heyday of federal policies aimed at exterminating them.
Zink's research in these areas necessarily informs her teaching. She is committed to helping students look for and listen to voices from the American margins, to help them understand that, as Henry David Thoreau put it, "the universe is wider than our views of it." 
Seeking Beauty: Wandering of a Vagabond presented by
Ed Cannady
Last summer Ed Cannady went on a four and a half month journey north through western Canada and Alaska. Sometimes he does leave the Sawtooths…. This will be a photographic telling of his trip, and forty-three grizzlies.
Ed Cannady requires little introduction. He is a Hailey-based photographer and wilderness lover who has been hiking and working in the Sawtooth Country for 50 years. Now retired from a career with the Sawtooth NRA, Ed is working hard at being good at retirement.
Advocates For Our Future: A Youth Perspective on Salmon and Steelhead Recovery
presented by Lilly Wilson, Salmon Youth Protectors
We are excited to host Lilly Wilson, who will share her experience joining and working with Youth Salmon Protectors to advocate for Idaho's salmon and steelhead. Lilly will highlight the work she is doing to amplify youth voices in the movement to remove the four lower Snake River dams.
Lilly Wilson is a second-year environmental science student at Boise State University, where her passion for nature and dedication to conservation have room to flourish. She dreams of becoming a botanist. Lilly has been involved in the Youth Salmon Protectors (YSP) for 2 years, advocating for the removal of the four lower Snake River dams to save Idaho's wild salmon and steelhead from extinction. She joined ICL staff as the Youth Engagement Intern for University Outreach, and works to connect colleges and universities with the work of YSP and ICL. Her love for the outdoors extends beyond activism, as she spends her free time painting wildflowers, embarking on hikes in the Sawtooths, and climbing trees near the Boise River.
5pm Friday September 22 at the Ketchum Community Library
The Salmon Way: An Alaska State of Mind
presented by Amy Gulick, Photographer and Author
What's it like to have a relationship with salmon? Intrigued that there is still a place in the world where the lives of people and salmon are linked, photographer and author Amy Gulick traveled throughout Alaska to explore the web of human relationships that revolve around these extraordinary fish. Commercial fishermen took her on as crew; Alaska Native families taught her the art of preserving fish and culture; and sport fishing guides showed her where to cast her line as well as her mind. Amy will share stories and images from her book, The Salmon Way: An Alaska State of Mind, and talk about the opportunities to recover salmon in the Pacific Northwest.
Amy Gulick is a photographer and writer, whose work has appeared in Smithsonian, Audubon, National Wildlife, and Outdoor Photographer. She is the recipient of the Voice of the Wild Award from the Alaska Wilderness League, the Conservation Voices Award from Washington Wild, and the Daniel Housberg Wilderness Image Award from the Alaska Conservation Foundation. Her award-winning books include The Salmon Way: An Alaska State of Mind and Salmon in the Trees: Life in Alaska's Tongass Rain Forest. See more of her work at www.amygulick.com.