Getting to the heart of what matters in the Sawtooth National Recreation Area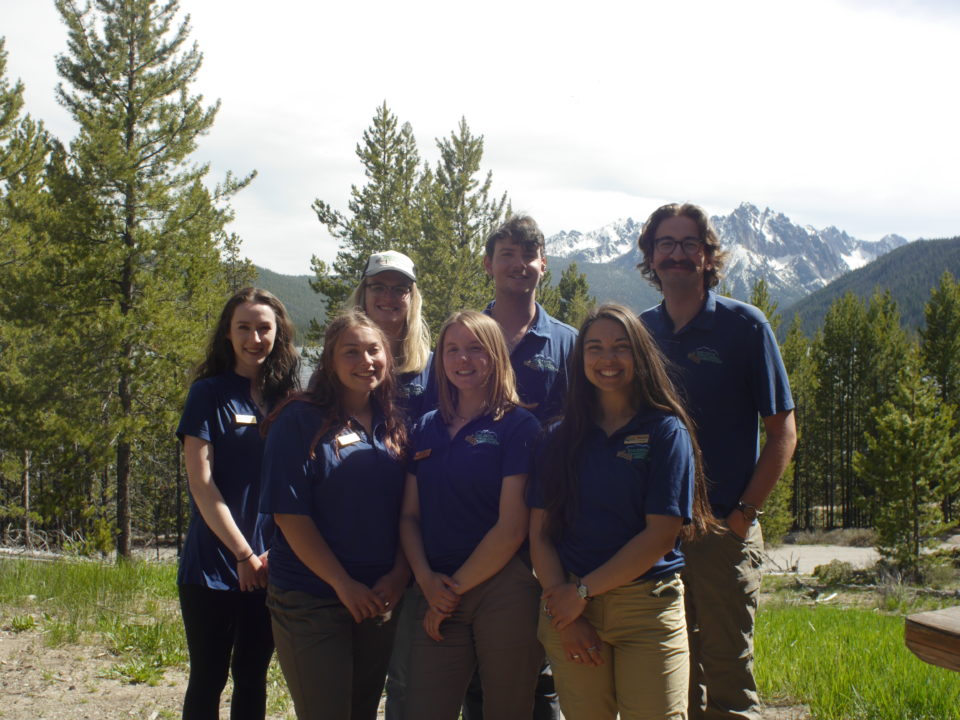 The Sawtooth Squad:
Introducing Our 2022 SIHA Naturalists!
The last ice has melted off Redfish Lake. Spring flowers are leafing out, and some are even blooming. The rivers and lakes are on the rise from snowpacks that are finally seeing above freezing days. These are all the signs of the seasons changing, along with one of the most important: time to introduce all of our 2022 summer Naturalists!
Eddison Black
Eddy is joining us from Logan, Utah. Originally from Idaho Falls, Eddy visited the Sawtooths at a young age, and is excited to be returning to them this year to be a Naturalist! He is currently studying Environmental Studies at Utah State University. This season Eddy is excited to learn more about interpretation and the different animals of the Sawtooths.
Julia Stachowski
Julia came all the way from Rochester, New York to be one of our Naturalists this summer! She has just graduated from Ithaca College with a BA in Biology with Teaching focus. While having visited Idaho before, it is her first time in the Sawtooth mountains. Julia is passionate about plants, having worked on a hydroponics farm for two years, and she is thrilled to both learn more and teach about edible plants of the Sawtooths.
Keslee Green
Keslee Green traveled from Logan, Utah to join us as a Naturalist this summer. She is currently pursuing a degree in Conservation and Restoration Ecology from Utah State University. Keslee is delighted to learn all of the wildflowers she can this summer. One of Keslee's highlights in her life was working for a predator research facility, where she even got to help raise bear cubs.
Emma Haldane
Emma joins us from the front range of Colorado, where she received her degree in Human Dimensions of Natural Resources from Colorado State. She has spent the past few years shredding the slopes of the Central Rockies, and she is joining us on the slopes of Redfish this summer as a Naturalist! She enjoys playing the piano in her off time, hiking, and keeping an eye out for river otters.
Audrey Schuler
Audrey has traveled to the Sawtooths from Lake Tahoe to be one of our Naturalists this summer. She is currently studying at Sierra Nevada University, where she is pursuing a degree in Outdoor Adventure Leadership and Environmental Science. Audrey is excited to learn more about the rocks of the Sawtooths, and to spend her free time hiking and exploring to find cool ones!
Bryce Johnston
This is Bryce's second summer in the Sawtooths, and his first in the new role of Lead Naturalist. Coming from Utah, Bryce has a degree in Conservation and Restoration Ecology from Utah State University. Along with SIHA, he has spent the past few summers working in different parts of the Rockies, and is excited to return to his favorite mountain range. This summer he is excited to run the Visitor Center and help the crew create interpretive programs. In his free time, he hopes to do some exploring around on his bike and by foot.
Our Visitor Center is now open every day, 9:30am-5pm through mid-September. We are here to answer visitor questions and provide you with the best books and maps for your Sawtooth adventures. We also have daily interpretive programming for all ages. Stop by and meet our 2022 crew!