Sawtooth Forum and Lecture Series
Beginning in 2008 the SA has sponsored the annual Sawtooth Forum and Lecture Series. These programs provide visitors and locals the opportunity to hear experts in local history, fish and wildlife, geology, environmental issues, and the arts share their work and latest research results related to this magical Sawtooth-Salmon River country. What fun to learn more about the special critters, characteristics and culture that make this a very, very, special place! Past presentations have included pronghorn antelope, rare flowers and plants, Whitebark Pine ecology, fire ecology, wolverines, wolves, salmon, and raptor ecology featuring live birds of prey. Geologists have explained how the Sawtooth Valley was formed and about the recently discovered Sawtooth Earthquake fault! Historians have shared the history of the conservation movement in the West, Native Americans, and of the early settlers, miners, ranchers and scientists in the Sawtooth country. Local writers and poets have shared their work as well.
These fascinating programs are free of charge (donations accepted!). They are held every Friday in July and August at 5pm at the Stanley Museum. This fascinating and wide ranging lecture series is sponsored by SA and would not be possible without the generous community support of Idaho Rocky Mountain Ranch, Sawtooth Society, Redfish Lake Lodge, National Environmental Education Foundation, the Val A. Browning Foundation, and other individual donors. We cannot thank these generous organizations and individuals enough for their essential financial support! We look forward to seeing you at these fascinating and informative presentations.
In 2019, the 12th year of the FLS, the Series theme is "The Adventure Starts Here" and will focus on expanding our understanding and appreciation of the Sawtooth National Recreation Area.  We hope you will enjoy the Series this summer.  Please let us know what you think of the Series and sign up to be on our mailing list to get updates on upcoming programs.
July 5
Bob Beckwith
Salmon Headwaters to the Pacific Ocean

Bob Beckwith and his wife, Marcia, were teachers. Summers were flex time to do other stuff. When Bob Sevy offered Beckwith a guide job on the Salmon River, that became the stuff. When School ended, they moved to Stanley to guide rivers. When summer ended, school started.
"The idea of Salmon Source to Sea emerged from guided trips and fireside chats. We fell in love of the public lands, the mountains and rivers that sat and flowed through them. We built a Lodge from scratch. And we built a long table to share stories and plan adventures. It was at the long table that we all joined together to celebrate a big meal before launching Salmon Source to Sea on June 30, 2018."
July 12
Joe Leonard
A Journey Into the Sawtooth Wilderness

Idaho living legend Joe Leonard will give a presentation about his pioneering outdoor exploits starting way back in the 1960s, the era of three-pin bindings, leather knickers, gaiters and wool socks. He will address what the wilderness and all that Idaho skiing, kayaking and climbing has meant to him, including the spiritual benefits of a life spent in the wilderness and beyond. A gifted write, Joe's memoir, "The Son of the Madam of Mustang Ranch," won a Best of 2016 recognition from the National Outdoor Book Awards.
July 19
Corrine Coffman with Morely Nelson
Snake River Birds of NCA — LIVE BIRDS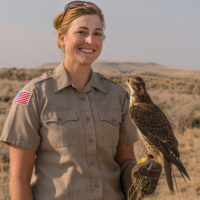 Corrine Coffman is the Environmental Education Specialist for the Morley Nelson Snake River Birds of Prey National Conservation Area (NCA), managed by the Bureau of Land Management. She graduated from Idaho State University with a Master's in Biology and completed an Environmental Education graduate program at University of Idaho. The NCA is home to the highest density of nesting raptors in North America, and the BLM's mission is to preserve this remarkable wildlife habitat while providing for other compatible uses. The NCA has a rich history of raptor education, beginning with Morley Nelson, and currently reaches 10,000 public and students with raptor programs annually.
July 26
Dan Noakes
Inside the Idaho Centennial Trail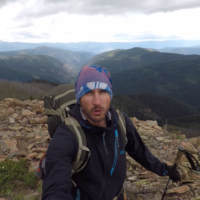 Dan Noakes is a 34 year-old McCall local who hiked the Idaho Centennial Trail in the summer of 2018. He is a professional video animator and owner of Motifize. He hiked the Idaho Centennial Trail in the summer of 2018 and published his ICT thru-hike experience with a video series featured on his YouTube Channel. Dan will share insights into taking on such a hike, answer questions from the audience, and present video highlights of his experience. Be prepared for an evening of high adventure!
Co-sponsored by the Selway Bitterroot Frank Church Foundation: The Selway Bitterroot Frank Church Foundation assists the US Forest Service by providing stewardship in the Selway-Bitterroot and the Frank Church River of No Return Wilderness areas and surrounding wildlands. SBFC increases the capacity of the Forest Service through boots on the ground work, volunteerism, education, and community partnerships. The SBFCF has helped maintain over 25 miles of the ICT in the Frank Church Wilderness.
August 2
Jim and Jamie Dutcher
Sawtooth Wolf Pack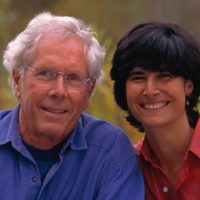 Jamie Dutcher began her career as an animal keeper and veterinary technician at the Smithsonian's National Zoo in Washington, D.C. In 1962, Jim Dutcher began his career as an underwater cinematographer, and then as a wildlife film producer for National Geographic. During the 1990s, they lived in a tented camp in the Sawtooth Mountains of Idaho, where they intimately observed the social hierarchy of the now-famous Sawtooth Pack. In 2005, moved by the plight of wolves, the Dutchers put down their filmmaking equipment and founded the nonprofit organization Living with Wolves, seeking to re-establish the wolf in its rightful place in the American West. Since then, they have presented trusted, factual information through social media, books, educator guides for schools, films and museum exhibits to more than 30-million people worldwide, becoming the premier advocates for wolves, bringing understanding of this misunderstood and persecuted species by sharing their knowledge and lifetime of study.
*Program will be held at the Stanley Community Building*
August 9
Frances Cassirer
Wild Sheep!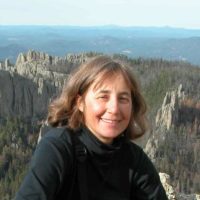 Dr. Frances Cassirer is a wildlife research biologist for the Idaho Department of Fish and Game stationed in Lewiston. She has been studying bighorn sheep in Idaho for 20 years focused on restoration in Hells Canyon and has also worked on the Salmon River and eastern Idaho populations. This presentation will cover the history, biology, and management of mountain sheep in central Idaho.
August 16
Dave Kimpton, Tom Kovalicky and Jay Sevy
Stories from Rangers Past
Dave has been a resident of the Sawtooth Valley for so long that it is rumored he came out west with the first fur trappers. You will enjoy the adventures, misadventures, and confessions of a young Zone Manager as he muddles his way through the early conflict years of the SNRA. His moniker, known to numerous terrified friends and acquaintances, is "Dangerous Dave's Expeditions." Every word of his stories is the truth, the whole truth, and everything but the truth.
Tom retired from a 30-year career with the US Forest Service in 1991. He came to Stanley in 1970 as the new District Ranger, and was promoted to Deputy for Administration when the Sawtooth National Recreation Area was established in 1972. For the past 20-years he, along with other former smokejumpers have done physical volunteer work every summer on the Sawtooth NRA, helping the Forest Service fill in the gaps in their lack luster budget. He spends his time between Stanley and Grangeville and Lolo, Montana with his family.
Jay Sevy, age 80, graduated from Utah State in 1961 and was assistant Ranger under Harold Wadley on the Stanley Ranger district from 1963-1965. Jay had an outdoor career in resource management including time managing ranches. He is now retired and pursuing some of his favorite pastimes of fishing, hunting, and traveling.
August 23
Brian Jackson
Astronomy Before Galileo

Brian is an assistant professor teaching astronomy in the Physics Department at Boise State University. Before coming to Boise State, he was a postdoctoral fellow at the Carnegie Institution of Washington's Dept. of Terrestrial Magnetism in Washington, D.C., and before that, at NASA's Goddard Space Flight Center in Greenbelt MD. Brian earned his PhD in Planetary Science from the University of Arizona's Lunar and Planetary Laboratory in Tucson, AZ. Brian received his BS in Physics from Georgia Tech in Atlanta, GA. His research focuses primarily on orbital dynamics and transit observations of extrasolar planets, planets outside of our solar system. Brian also does some planetary science field work, notably on Death Valley's Racetrack Playa and on terrestrial and Martian dust devils.
August 30
Russ Thurow 
Born to Be Wild: History, Status, and Recovery of Wild Chinook Salmon in Central Idaho

Historically, the Columbia River basin (including the Snake and Salmon Rivers) was the most productive Chinook salmon habitat in the world. Today all Snake River populations are federally listed under the Endangered Species Act (ESA) and at risk of extirpation. Come hear about investigations into the factors influencing status and recovery of Chinook salmon in Idaho's Middle Fork Salmon River. Collaborative research is advancing knowledge of the landscape and biophysical processes that influence aquatic habitat, and the distribution, diversity, and persistence of salmon.
Russ has nearly 40 years of experience investigating Idaho's wild salmon and steelhead. His research focuses on understanding ecosystem function and aquatic species responses and on development of conservation and restoration strategies. Russ is very familiar with Central Idaho's Middle Fork Salmon River basin and its unique aquatic resources.